"Very practical. Easy reading. A must read for any manager regardless of experience. I would also add a must read for business owners with employees. I wish we'd had it 10 years ago."

- Steve Morrison, Director
Alabama Carriers, Inc.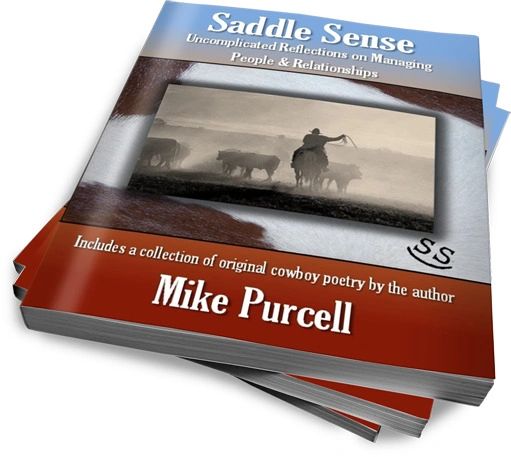 Although Saddle Sense retails for about $14.95 (plus shipping & handling) through internet bookstores such as Barnes & Noble, Books-a Million, and Amazon.com, we are offering an internet special price of only $14.50 including shipping and handling.

Also available in e-Book format for only $6.50
(eBook orders will be delivered by email within 24 hours)

Below is the table of contents from the book:


Contents
1. Saddle Sense
Reflections on the qualities of a person who is well prepared to effectively manage people and relationships.

2. Followin' The Leader
Reflections on the impact of leadership by example.
3. It's A Big Job, Buckaroo
Reflections on the many different roles a supervisor or manager has to fulfill.
4. Ridin' on Solid Ground
Reflections on the impact of honesty and integrity in the life of a supervisor or manager.
5. Positively Influential
Reflections on the pitfalls of negative influence and the rewards of positive influence.

6. Trust Me Dusty
Reflections on the importance of empowering team members through effective delegation

7. What Did You Expect?
Reflections on the importance of setting and clearly communicating your expectations.

8. You'll Eat The Corn You Plant
Reflections on how a supervisor's or manager's attitude and work habits can either negatively or positively affect how their team works.
9. We Done It Right
Reflections on motivating people to take pride in the quality of their work.
10. Saddle Up And Deal With It
Reflections on the importance of effectively dealing with conflicts as soon as they arise
11. The Lot You Could Have Had Reflections on maintaining a positive attitude and finding the beauty that is hidden between the challenges in life.
12. It Happens In A Dash
Reflections on the importance of building your positive personal legacy.